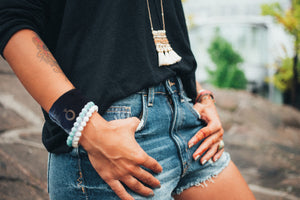 Our mission
To give you peace of mind that your rings and small valuables are secure and on you, anytime you want, anywhere you are.
keeping your ring(s) safe and on you at all times
RingHero is one size fits most and meant to fit tight. The material allows for crazy stretch and should fit snug on your wrist. It will adjust to your fitting after a few wears, the goal is always to ensure it won't move during activity.
RingHero is designed with 4-way stretch spandex material so they will adjust to fit your wrist. They are a multi-purpose, durable, stylish & functional accessory. 
RingHero can be worn in the water and is easily washed.
The RingHero Founders
Three friends from different work backgrounds that shared the love of being active. Over some red wine and casual business converation, they realized they all had the same worry and problem of storing their wedding rings when working out or playing sports. After much research and a quick survey of the market, they concluded that a product like this did not exist. Soon after, capital was raised, product research and development began, and a high-quality supplier was found. A trademark and patent lawyer later, RingHero hit the market and has been a customer sensation out of the gate.
The RingHero continues to be sold worldwide and recieves high praises and highly rated reviews and testimonials.